Freddy the Hedgehog is Your Dog's New Favorite Interactive Food Dispensing Dog Toy!
Designed in the USA by a family of Dog Lovers, this unique all-in-one interactive dog toy, puzzle toy, and dental chew toy will keep your dog entertained for hours! 
So Many Uses Indoors and Outdoors
A Sturdy Dog Toy
I got this for my parent's large dog who is young and likes to chew. He really likes this toy and it has held up very well since receiving it. He loves it for fetch and sitting by the couch chewing the toy.

The rubber is thick and has not cracked or split. It is easy to clean off as well which makes it nice when they are ready to put it away with the other toys.
Let me start by saying that my 8 month old lab could chew through steel. He can't have chew toys made of anything weaker than rubber or they'll be in tatters in under 10 minutes. This toy has exceeded expectations, and the fact that it is also a feeder toy is really the cherry on top. He has tried to chew the nose off this poor hedgehog with malicious intent for 2 weeks straight, and has absolutely nothing to show for it... This hedge hog is the Goldie locks of feeder toys. You can put foods, treats, whatever your heart desires in there. Your dog will slap it, and a couple kibble will come tumbling out without fail every time. Freddie is a true friend of the people, and dogs everywhere.
Entertaining Toy for My Dog!
My one year cocker spaniel has destroyed nearly every toy she has, even those described for tough chewers, until Freddy the Hedgehog. Freddy helps to keep her occupied for long periods of time. Cocker Spaniels are notorious treat lovers so she will keep pawing, nosing, tossing for the chance at a random treat being dispensed which means less time chewing on shoes!
Great product!!
Greatest Dog Toy Ever
We didn't know about Bella Boo until a friend brought one to a party and let my nephew's dog play with it. the dog is a Rottweiller and destroys chew toys but the Bella Boo took all the abuse the dog could give out. He never quit playing with it. He brought it to whoever would take it and throw it so he could chase it.

After I got ours for my grand daughter's dog, we read the card included and found out the toy has been upgraded several times for safety and enjoyment reasons.

If the dog likes it, I like it. And I like it
The Perfect Gift for Your Pup!
This is such a fun chew toy and made the perfect gift for our friends who just adopted a new dog! Not only is the toy cute, but it seems really durable for playing. Plus it has features that clean teeth and slow feed. The box is so nice I didn't even have to wrap it 😁 All in all a great find!
Why Choose BellaBoo Pets Interactive Strong Chew Toys for Dogs Large and Small? 
✔ We Care About Dogs. It's that simple. We have 3 perfect puppers of our own and wanted to create a dog toy unlike any other that looks like their favorite plush hedgehog dog toy but also provides solutions for crate training, slow feeding, IQ, good for teeth cleaning, or just playing fetch in the backyard. 
✔ Durable & Safe. You can trust the quality of the nearly indestructible all-natural non-toxic rubber in these multi-function interactive dog crate toys to provide hours of chewing satisfaction for your strong chewer and prevent boredom and anxiety with the treat hider belly and quill puzzle top.  
✔ So Many Uses Indoors and Outdoors. The perfect shape and material to play fetch together or give them something to add to independent play in the backyard or at the park. The treat dispenser will have them working hard for that reward and keeping calm in the crate or the car ride to the vet. The pointy quilled top maze will clean their teeth and massage the gums or help that teething puppy.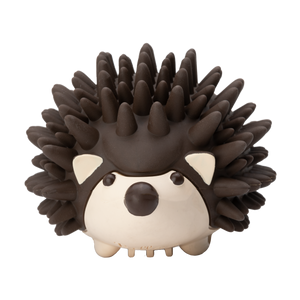 Freddy the Hedgehog Dog Chew Toy
Sale price Price $19.99 Regular price $22.99 Unit price / per